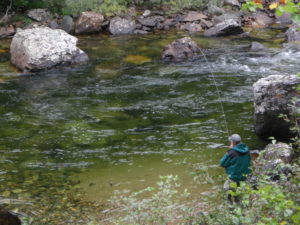 The Skookumchuck River is a small free stone tributary of the Kootenay River possessing some of the largest wild West Slope Cutthroat in the region. An average fish will go 16 inches with some big guys over 20.
The Skookumchuck is our primary walk and wade stream. It offers the beginner or advanced angler the opportunity to fish a truly pristine piece of water with a good chance of catching Cutthroats that are measured in pounds not inches. This trip calls for a moderate one hour hike down along the River and into the canyon reach where we prefer to fish.
Because of a prolonged spring run off, the Skookumchuck does not start fishing well until mid July. At this time attractor patterns work well. Hoppers and other terrestrials are best through August and September. As October cools off it brings good hatches of Blue Wing Olives and Green Drakes.
'Looks like a little piece of heaven!"
DEBRA M.
SKOOKUMCHUCK RIVER
WALK AND WADE TRIPS
July through October
1 or 2 anglers, per day
The flaot includes; fees include 8 hours of guided fly fishing, gourmet lunch, transportation and all equipment. Taxes, licenses and gratuity are not included.
U.S. dollar conversion amount based on the current exchange rate at time of booking.