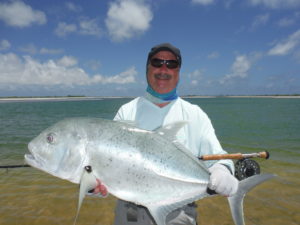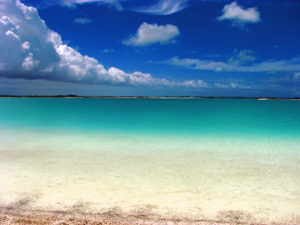 Each year we host a fishing trip to somewhere warm and exotic... preferably close to the Equator.  The last few years we have been taking a group of anglers to the Republic of Kiribati, also known as Christmas Island. Our next scheduled trip is from October 25th to November 1st, 2022.
Christmas Island is a giant coral atoll located 1,300 miles south of the Hawaiian Islands, 100 miles north of the Equator. The fishing for Bonefish and Giant Trevally is fantastic. As the host, we make all the arrangements booking you into a local lodge and setting you up with knowledgable professional guides. 
If you have an interest in fishing for Bonefish and Giant Trevally at Christmas Island, give us a call to discuss trip dates, rates, flights and what to bring. Call us at 1-800-667-2311 to discuss coming along on this once in a lifetime fishing adventure.
"Christmas Island is a spectacular location for nonstop bonefish action and big GT's. The Villages run a great operation and the convenience of jumping straight into the boats at the beach with knowledegable guides was perfect. A must for any serious flats fisherman!"
Allan D.
HOSTED TRIPS
The price of the hosted trip is dependant on the destination, the desired accommodations, and other factors which change from year to year and from angler to angler. So call us at 1-800-667-2311 for the latest estimates.